1990-1999
A love affair with Scotland
Each generation of Mads has developed its own traditions and comforts. In the 1990s it was Scotland – touring eight years in succession. The decade was also marked by the choir's 40th anniversary celebrations and the closure of the university's Music Department.
Tours
Read the diary of the 1991 Mads tour to Ireland (PDF)

Even Disney's Magical Kingdom was fortunate enough experience some madrigal magic in 1994!

When the 1999 choir went to Kilkenny, Ireland, they went very prepared!
Fortieth anniversary of Mads in 1990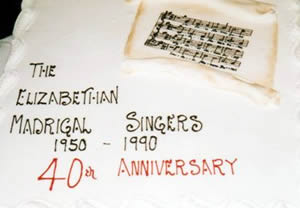 In February 1990 Mads celebrated its 40th anniversary in Aberystwyth.
During the weekend Mads sang Tallis' 40-part motet Spem in Alium, conducted by Terry Charlston, which was recorded by television company Hel Straeon, and enjoyed drinks with the Principal, Kenneth O. Morgan. Before the annual dinner Jayne Davies and Mads President Julian Grimshaw cut a special cake to mark the occasion.
Mads Memories
Kevin John recalls the kindness of strangers during one visit to the Black Forest:
"Dan Hunt and I were put together to stay with a lovely family. They didn't have a house - it was a fortified castle, with thick stone walls, suits of armour everywhere and bearskins on the stairs. Dan and I nobly helped the Baron & Baroness empty their wine cellar, singing songs until the early hours."
Erica Howard looks back on how the choir would enjoy impromptu singing in Abereen Cathedral:
"It was on one of the days we were camping but Claire decided that we should go and check the place out to look at acoustics. We all trogged inside in our horrible camping clothes looking like right scruffs and got some funny looks from the many tourists that were there. It was then that Claire decided that the acoustic looked a bit scary so she organised us to do a quick, from memory, rendition of Locus Iste. The look of astonishment and pleasure on the faces of the formerly judgemental tourists was fantastic."